Book: The World Around Us
by Rahda Burnier

A compilation of Radha Burnier's On The Watchtower editorials from The Theosophist journal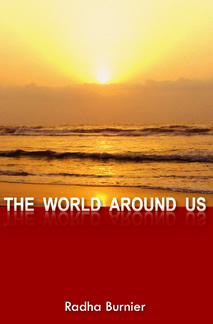 Media reports
Express News Service (India)
23 Nov 2009
CHENNAI: Observing that people today wasted time and technology in small and ridiculous things, while ignoring certain important things, Theosophical Society president Radha Burnier asked people to see life in plants and animals that exist around them.
This was at the launch of her book The World Around Us held in Theosophical Society here on Sunday. The book is a compilation of Radha's writings on various issues in her editorials in the magazine Theosophist, from 1980 to 2007.
Releasing the book, Prof M S Swaminathan referred to the book as "ageless, and dealing with eternal truths." He also spoke on various issues plaguing the country, like starvation, poor conservation of animals, birds and other living species. Swaminathan also read out various portions of the book, in his address.
Swaminathan asked them to form a coalition of compassionate people to address these issues. Referring to certain government measures taken to solve our country's leading problems, he noted that the schemes was driven more by patronage than anything else. The World Around Us, which is Radha's fifth book, has been divided into 10 sections and is being published by The Theosophical Publishing House.

GOLDEN OLDIES: Theosophical Society president and author Radha Burnier, along with M S Swaminathan in the city on Sunday. The book is priced at Rs 250 (hardbound) and Rs 200 (paperback.)
---
THE HINDU - Online edition of India's National Newspaper
Monday, Nov 23, 2009 Tamil Nadu - Chennai
"Programmes to eliminate hunger should be born out of compassion"
Special Correspondent
MSSRF chairman M. S. Swaminathan launched the book 'The World Around Us' by The Theosophical Society president Radha Burnier in Chennai on Sunday. The first copy was received by S. Ramu.
CHENNAI: Hunger and poverty alleviation programmes are bound to fail if they are based on charity and a poor feeding approach, M. S. Swaminathan, chairman, M. S. Swaminathan Research Foundation said on Sunday.
Dr. Swaminathan, who launched the book "The World Around Us", a compilation of articles by Radha Burnier, President of Theosophical Society, said hunger persisted in India because the multitude of alleviation schemes failed to empower people to "earn bread with human dignity." Noting that according to latest statistics, an estimated 200 million persons, including children, went to bed hungry in India, he said programmes to eliminate hunger and deprivation should be born out of compassion rather than adopt a "do-gooder" approach.
An espousal of compassion to the less privileged and an intuitive understanding of human affairs were the hallmarks of Ms. Burnier's writings, Dr. Swaminathan said. Pointing out that information evolved into knowledge when added with value, and knowledge with the weight of experience became wisdom, he said the author's works reflected her intellectual and spiritual evolution. Dr. Swaminathan handed over the first copy to S. Ramu, manager, Theosophical Publishing House.

Ms. Burnier said the Theosophical Society had an increasingly relevant role to play in awakening humanity." C. A. Shinde, librarian, introduced the author. Pedro Oliveira, head of the Editorial Board of the Theosophical Society spoke.