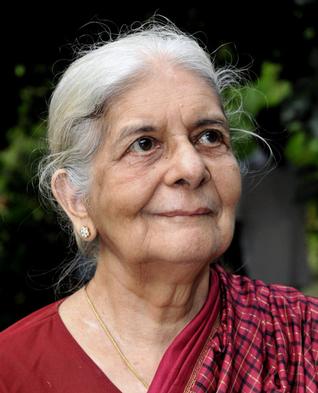 The TOS salutes Radha Burnier
The International President of the Theosophical Order of Service passed away on October 31, 2013, two weeks short of her 90th birthday.
We honour her many decades of outstanding public and private work in the fields of education for the needy, preservation of the environment and animal welfare. We salute the courageous positions she took on a great number of contemporary issues of concern: inhumanity, violence, exploitation of the vulnerable, corruption, the abuse of women, vivisection, the pollution of the environment, nuclear weapons, and genetic engineering, to name a few. Radhaji's bracing "On the Watch-Tower" commentaries regarding social problems have often been reproduced in TOS publications and their collection in a book, The World Around Us, published in 2009, was warmly welcomed by TOS members. Radhaji was extremely well informed on current events and was prompt, bold and incisive in denouncing unethical political, scientific, and economic practices.
We will shortly publish a special e-newsletter on Radhaji's achievements in the humanitarian service field particularly within the TOS and TS. It will also contain stories of her compassion and generosity in the private sphere of which people knew little. We wish her Godspeed in her onward journey.
For a very informative and readable account of Radha's life prepared by the "TS Wiki" team based at the TS in America, click here:
http://www.tswiki.net/mywiki/index.php?title=Radha_Burnier