Golden Link School
- Successful fund-raising with the Kern Foundation
The end of the year brings great news. As a result of the generosity of TOS and TS members around the world, we have reached our target of US$20,000 in donations to the Golden Link College in the Philippines. Donations made through the TOS in America are eligible for the matching grant from the Kern Foundation, so the College will receive US$40,000 this year to support its building and development program.
Thank you, Mr John Kern and the Kern Foundation, for your much appreciated generosity and support for this theosophically oriented education project.
As Mr Vic Hao Chin, Jnr reports, the donations given in 2009, together with the matching grant, were used to build a 4-story building. Vic writes, "When we proposed the building, it was originally for a hall only, but after the drawings were made, we realised that we would soon be needing new spaces in a year's time and hence we decided to add our own funds to the Kern matching grant and complete a four-story building. The ground floor is now being used for an assembly hall, canteen and recreation area with two table tennis tables. We will be putting in chess sets, scrabble tables, etc. for students. A small bookshop will also be opened.
The second floor is entirely devoted to the library. The third floor is for seven classrooms, which right now are not yet being used but will soon be this coming year. The fourth floor is a larger assembly hall.
We would like to thank the Kern Foundation and our TOS and TS donors for making this building possible. Without your support, we would have space problems by this school year since our students have increased to about 530 students."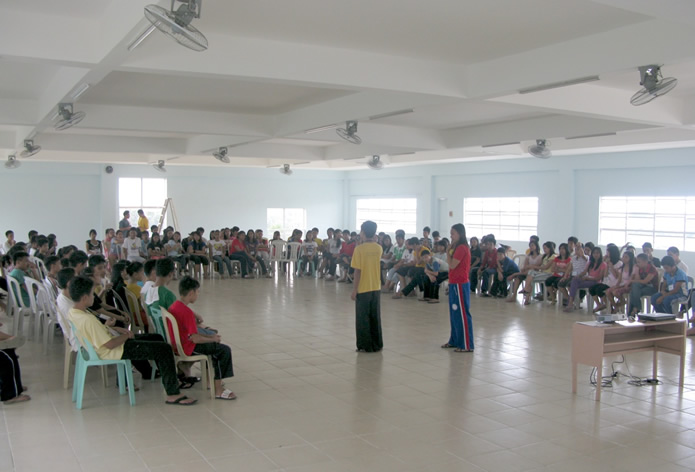 Golden Link youth camp for 170 students and scholars meeting in the new 4th floor hall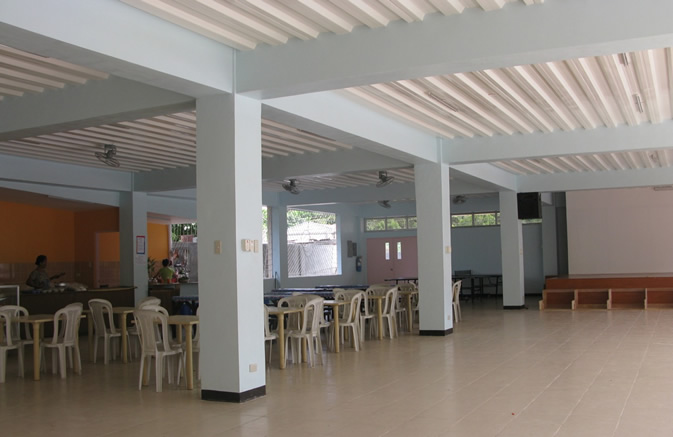 The assembly hall, canteen and recreation floor