Helping to feed the homeless in Raleigh, NC, USA
On a rainy Saturday in March, members of the Research Triangle Study Center in North Carolina, USA assembled and delivered 100 bag lunches to the homeless in downtown Raleigh, NC.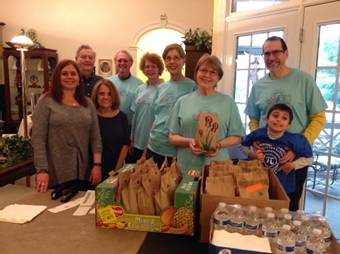 Assembling lunches: Melissa Auten, David Bland, Kay Jean Wilson, Ron Banister, Ellen Michal, Betty Bland, Farley Bernholz, and Paul Schlosser and his seven-year-old son Kirpal.  Stephen Cassell, who was unable to attend, also assembled and contributed to bag lunches.
The group gathered at the home of Betty and David Bland, where members made amply proportioned peanut butter and jelly sandwiches.  Then, using a somewhat modified (and just a little chaotic) assembly line approach, they added a large red apple, small bottle of water, pieces of candy or a protein bar, and napkins to fill up their previously decorated brown bags.  The artistic bags were a big hit with the men and women who filled the community room near Moore Square in Raleigh, with each one picking their favourite design – from hearts and flowers to messages like "We love you!" and "You are special."
The service project was coordinated through the Oak City Outreach Center (OCOC), formed a little more than a year ago as a way to offer food assistance to the homeless after city permits made it difficult to distribute food to those who congregated in the nearby park. The Center, coordinated by Raleigh Catholic Charities, is a testament to the ongoing cooperative efforts of city leaders, churches, service organisations and individuals dedicated to helping those in need. Located on South Person Street in the heart of the city, the OCOC provides meals for 200 to 300 people every weekend.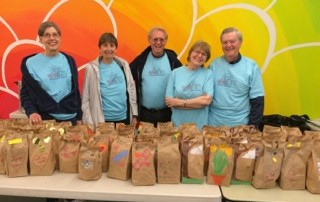 Delivering lunches: Betty Bland, Rae Thompson, Ron Banister, Farley Bernholz and David Bland

For participating members of the Research Triangle Study Center, the day was rewarding in many ways.  We enjoyed each other's fellowship as we assembled the lunches, were able to interact with many wonderful people at the Center – both the homeless and the volunteers – and felt warmed by the heartfelt gratitude and smiling faces all around.